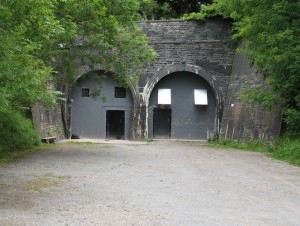 MNTSC – Midsomer Norton Target Shooting Club was started back in the 1950's, shooting small bore rifles at the T.A. Centre in Midsomer Norton. In the early 1980s a new range was constructed at the old Somerset & Dorset railway tunnels at Chilcompton. From then on the Club had a thriving pistol section as well as the target small bore rifles.
In 2008 we completed and opened a 50 metre range alongside the original 25 metre range and Club House. We are now able to shoot most full bore calibre's, practical shotguns etc. in the 50 metre range.
The Club meets on Tuesday, Wednesday, and Friday evenings between 7.30pm and 10.30pm. Tuesday is for small bore target shooting which is shot at 25yds from the prone position. Up to three people can shoot at one time. This is the main type of shooting with Winter and Summer postal competitions being shot. Also in the Summer we shoot friendly shoulder to shoulder competitions which are very popular, especially the away shoots.
The rifles used are .22 calibre target rifles for this type of shooting and the Club has rifles for beginners to use along with coaching. The club only takes members from 17 years of age. Children over 14 may attend if their parent is a full member and takes full responsibility for their child accompanying them.
On Wednesday & Friday evenings both ranges are utilised. The 25 metre range can be used by those with a various calibres of firearms, from .22 Rimfire through to .45 calibre. We regularly seem members using black powder pistol, pistol calibre carbines and long barrelled pistols/revolvers.
The 50 metre range is approved for larger calibres, for example .303, 7.62/.308 and shotgun slug. Having this facility for virtually all centrefire calibres extends a tremendous versatility and opportunity to our members.
Visitors & first visits to the club.
A few pointers regarding your first visit to the Club. By law, you have to ask the Club Secretary for an invitation to the Club. He will arrange to meet you and introduce you to the other members.
New members without a Firearms Certificate may not shoot on their first visit. Holders of an F.A.C. and/or a Shotgun Certificate may shoot on their first visit.
All visitors and members must sign the register and fill out the shooting details including the Serial Numbers of any firearm(s) brought into the range.
All firearms must be kept in the gun room with actions opened and magazines out. Never load a firearm until on the firing point and instructed to do so by the range officer or person in charge.
When shooting has finished you must show your firearm is empty and have it cleared by the range officer before leaving the firing point. All empties and ammunition boxes etc. should be removed from the range. There is a dedicated bin for empty cases. Please do not place them in the general rubbish bins.
Click here for the MNTSC constitution.